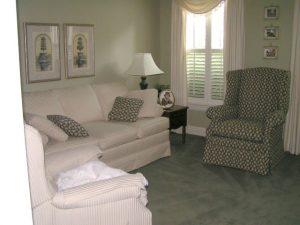 Nursing Home Neglect: There are many reasons why a resident of a nursing home may develop physical or emotional issues.  Problems may arise as a result of intentional abuse, neglect (intentional or unintentional), or simply as part of an elder's declining health.
Some of the most common signs of Nursing home neglect include:
Falls.  A fall can be a serious injury for a senior – especially a fall that involves a broken bone.  Three things influence the chance of breaking a bone:  the fall itself, the force and direction of the fall, and the fragility of the bones.  Each of the sides of the "fracture triangle" can be modified to lessen the chance of serious injury.  For example, throw rugs can be removed and uneven flooring can be altered to reduce the chance of tripping.  A person can learn how to fall correctly to protect the hips.  Vitamin supplements and other therapies can help strengthen bones.
A facility that does not work to reduce the risk of slips and falls is neglecting the safety and well-being of the residents.  Regular observation and check-ins with residents can help keep a fall from turning into a more serious issue – a senior left on the floor for hours after a fall may end up with more severe injuries.
Bed-related injuries.  Residents in a care facility often spend a great deal of time in bed.  As a person stays in bed for longer amounts of time, the risk of injury increase.  Possible bed-related injuries can include:  falls getting into our out of bed, bedsores, bed-related suffocation and strangulation.  Other health issues like dementia can increase the chances of a bed-related injury.
This is another case where regular observation of residents can prevent a disaster.  An adequately staffed facility can check in on elders more frequently – to examine skin and assist in repositioning.  A nursing home with modern equipment (for example, using alternating pressure mattresses) may be better prepared to care for bed-ridden residents.
Malnutrition and dehydration.  Each resident needs a personalized plan for nutrition and hydration – and medical professionals often need to be involved.  An incorrect diet or an inattentive staff (or both) can put a resident at risk for malnutrition and dehydration and resulting issues like a compromised immune system.
A person may be unable or unwilling to eat and drink for a variety of reasons – but it is up to the care facility to recognize that there is an issue and take steps to ensure proper nutrition.  Maintaining a careful schedule for meals, snacks, and hydration, and communicating regularly with health care professionals can save an elder's life.
Being observant of an elder's physical and emotional state can uncover a problem before it becomes severe.  Friends and family members can do the following:
Pay attention to the overall physical health of a nursing home resident.  Watch for injuries, and find out how they happened.
Pay attention to the nursing home resident's emotional state.  Ask questions about how they are feeling and what interactions with staff and other residents are like.
Be mindful of the general conditions of the care facility, and the resident's living space.  Is it clean and safe?
Communicate with medical personnel to stay up to date with the elder's general health and any specific issues.
Communicate with care facility staff to stay up to date with the elder's general health and emotional state, their daily routine and activities, and goings-on around the nursing home.
It can sometimes be difficult to distinguish between abuse, neglect, and general poor health.  If you have concerns about the care you or a loved one is receiving in a nursing home, don't wait.  Talk to staff or supervisors, talk to a doctor or social worker, or talk to a qualified legal professional.
Nursing Home Neglect Attorneys
If you believe a family member or loved one is being abused or neglected in their care facility, assisted living, or nursing home, contact Philadelphia attorneys Villari, Lentz & Lynam, LLC. They stand ready to investigate and pursue all available civil damage remedies. Call (215) 568-1990 or complete the short form here.